Alexander Agent | June 16, 2022
"Hi gay" - Meg Stalter​
First of all, Happy Pride!
My queer life really jumpstarted in the Spring of 2014 (I wrote a bit more about that last year). Prior to that, I lived the classic childhood and adolescence of a straight male. Even through college, I flirted exclusively with women and my "dream life" was built around being married to a woman and having kids by the age of 22. A bit ambitious and quixotic but you can't blame me for trying!
For the record, being straight is not a bad thing. Derived from "the straight and narrow," straight is defined by the adherence to common or traditional beliefs and lifestyle choices. Consequently, a queer lifestyle ventures outside of the typical expectations in society, and is not limited to sexuality– even if you are straight, your lifestyle might still be queer.
Queerness is defiance, a personal rejection of the life we are told we must live. In my hometown (Lafayette, Louisiana), I am queer for not being married and for not having kids; I am queer because I experiment with life's terms and conditions.
As much as it is a rejection of the societal pressure for sameness, queerness is a celebration of the courage to be different and to choose to be different every day.
These past two weekends respectively were the West Hollywood and the Los Angeles Pride parades and festivals. I do my best to attend Pride every year because I LOVE IT, but somehow this was my first time actually participating in a Pride parade! I rode on a bus with the Los Angeles Gay and Lesbian Chamber of Commerce, and got to bring some friends along with me.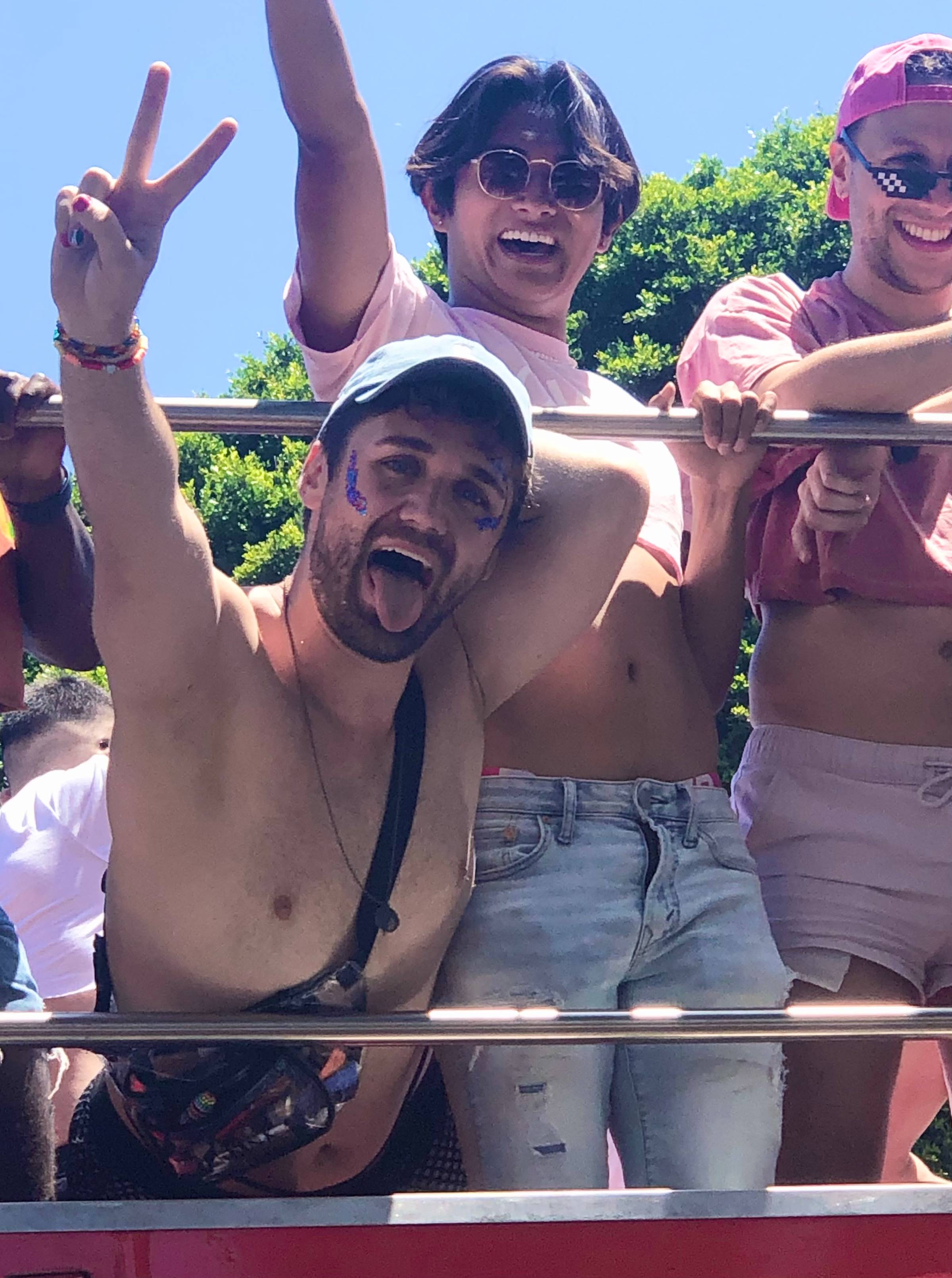 I've participated in MANY a parade in my day– in Lafayette, a Mardi Gras parade literally goes through my neighborhood every single year. The quintessential craft project in Louisiana elementary schools is creating a shoebox model of your ideal Mardi Gras parade float. I was (successfully) raised to live-laugh-love all things parades.
Despite my vast experience with parades, this year felt different. Participating in a Pride parade implied that I am queer and my queerness is okay. I felt encouraged to be different, and safe to celebrate and represent those differences. Talk about *major chills* from all the love and acceptance!
This week, I encourage you to identify something queer about your life, and celebrate that queerness. I'm not saying you need to come out (please, don't come out as straight); instead, consider choices you have made that stray from the life that was (or is) expected of you. To get your brain started, here are a few suggestions on what queerness beyond sexuality may look like:
7 Unexpected Ways You May Already Be Living a Queer Life:
Planning to marry later in life, if ever;

Educating yourself to become a better ally to others;

Adopting, planning to adopt, or planning to not have kids at all;

Living life solo (this includes vacationing on your own, going to the movies by yourself, etc.);

Dating based on personality and other characteristics beyond race, age, gender, sexuality, height, and/or weight;

Rejecting gender-specific grooming, beauty, and dress code standards;

Considering if the pronouns you were assigned at birth are aligned with who you are today.
To share what makes you queer, hit 'reply' below. I am in your corner and sooooo ready to celebrate with you!
Together even in our differences (
and always
with Pride),
Alexander
P.S. For those of you who don't know, I run a virtual assistant and business organization consultancy (aptly named Pain in the Assistant). For one of my clients and forever business besties HR TailorMade, I wrote a list of opportunities for business leaders to help LGBTQ+ team members feel seen, heard, and included in the workplace. Check out that list on Instagram here.
---
The Gratitudinal (AKA the things I'm loving and recommend)
Imitating the structure of Pride and Prejudice by Jane Austen, Joel Kim Booster wrote Fire Island as a LGBTQ+ rom-com. I laughed (the com), I cried (the rom), and I'm still thinking about it a week after watching it. I feel lucky to be alive at a time when the parts of myself that sometimes feel darkest can be represented on-screen. Give this a watch ASAP.
​100 Boyfriends, a collection of short stories by Brontez Purnell
It's graphic, dark, slutty, sexy, a little scary and worrisome... but it's honest. Brontez recounts his experiences dating "boyfriends" (a loose term for everyone from one-night stands with strangers to long-term affairs with married men). As someone who is perpetually single, reading these stories reminded me that we are all searching for love and intimacy; the search looks different on each of us and is valid regardless of what shape it takes.
​These Tanks, perfect summer wear from ASOS
Coming in a pack of five different colors, they are essentially all I wore for most of Pride. For some reason, my chest-to-shoulders-to-torso ratio is atypical. I don't usually wear tanks because they never fit right (you can see my n*ps) but LISTEN: these tanks put in the work!!! I love them and they are def on my 'favorite purchases' list of 2022.
I don't remember when, how, or why I stumbled on this newsletter but it is one of my favorite emails to receive (and that's saying something, because who really enjoys receiving emails?). And it's FREE! I have learned so much... I didn't even realize there were so many subsets of queerness to study! If you recall #2 on my list above (educating yourself to become a better ally to others), this is the perfect place to start! Hit subscribe!!